Welcome to a new week and a new blog post! This week's guest blog is brought to you by Jasmine from our Internal Communications Team. Today, Jasmine is sharing updates with you on the essential works taking place on campus during 2019/20. 
Firstly, we look forward to seeing new and returning faces in September! You may have seen on our webpages that essential repairs and improvement works are taking place on a number of blocks on the Streatham campus. To see the locations of the scheduled works, please take a look at the maps of affected blocks:
There are two categories of essential repairs and improvement works:
Updating the exterior of the building
Refreshing shower room flooring
What should I expect if I live in a block where the exterior is being updated?
Scaffolding is erected on the exterior of the blocks, during term one. Work will then get underway to update the exteriors, and then the scaffolding will be taken down.
We will keep you updated throughout the different phases of works, particularly in relation to noise and dust levels should you wish to study elsewhere during the day. Works will be taking place from Monday to Friday, 09:00-18:00.

What should I expect if my shower room flooring is being refreshed?
In blocks K and L at Lafrowda where the shower room works will be taking place you will be required to pack up your belongings into crates (which we provide) and move to an alternative flat for one week. You will then move back into your original flat at the end of the week. Don't worry, you will not be moving by yourself – you will move with your flatmates to the alternative flat and both University staff and a professional removal team will be on hand to move your crates.
You can watch a video from some of our past students to find out more about what it's been like to live in an affected block and also about the moving process.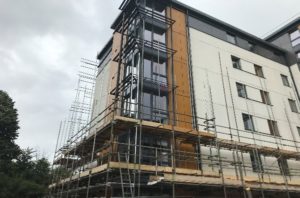 I've heard there is a rent reduction – how does this work?
Every effort will be made to reduce the disruption caused by the essential repairs and improvement works, however rent reductions will be available for students living in residences in 2019/20:

who have works taking place to the exterior of the block they live in
who need to move out of their flats to allow shower room works to be completed
Are the residences safe to live in?
The planned works will not affect the operation of the accommodation, which remain safe, fully functioning and able to be occupied. The works are planned carefully to ensure the impact is as minimal as possible.
How do I apply to live in, or not live in an affected block?
When applying for accommodation before 1 August you will have the opportunity to specify if you would consider living in an area where works are planned.
We advise students to check their accommodation offer carefully, at which point you will know if you have been offered a room where works are taking place, and the level of rent reduction you would receive. The information provided on our website will continue to be updated so that you can check the detail of works planned for your allocated accommodation. Please consider all information carefully before accepting your offer.
We are seeking to provide you with as much detail as we are able to at this moment, however this could be changed by events outside the University's control. For the avoidance of any doubt, the refund associated with the essential repairs and improvement works will only be payable if the works proceed. Please note, if you live in a block in close proximity, you will not be eligible for a rent reduction.
You may also want to find out about other construction projects on campus, such as the new accommodation being developed close to some student residences. Click here for further information, and we will have more on this subject in next week's blog post.
Thanks for reading and we hope you have found today's blog helpful! If you have any questions regarding the essential works and your accommodation application, please contact the Accommodation Office who will be happy to help.
Communications Jasmine 
Just a final reminder from the Accommodation Team – the accommodation guarantee period ends on 31 July, so if you are yet to submit your application for accommodation and fall within the guarantee criteria then please ensure you log in to your accommodation account and get your application submitted in time!