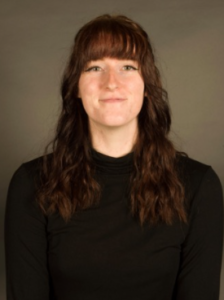 Kristen Fader is a current Master of Art Conservation Candidate, at Queen's University, Ontario, Canada. Her specialism is in Japanese and Chinese wood block prints, lithographic prints, papyrus, and sustainability in conservation. She graduated from the University of Exeter with a Masters in Classics and Ancient History in 2020, before returning to her home country.
What have you been doing since leaving Exeter, and what are you doing now?
I have recently begun my Masters of Art Conservation with a specialisation in paper and photographic objects. This is the only program in Canada, and I am one of three students accepted into my stream, so it has been such a ride to preparing for the program, being accepted, and finally being here in the thick of it all. To prepare for applying to this program, I volunteered as a conservation assistant at the Royal Albert Memorial Museum in Exeter while completing a Masters of Classics and Ancient History. I may have never discovered this career path without attending the University of Exeter, so I am so grateful to my time spent in Devon.
Why did you choose this career? And what do you enjoy most about your work?
I choose this career path because I have always loved history. In fact, my undergraduate degree was in Political Science, but I decided to pursue my passion of Ancient History at Exeter. I thought I would go on to do a PhD, but it just wasn't practical enough for me; fast forward a few months into my M.A. at Exeter and I discovered Art Conservation was something I could do. It combines science (mainly organic chemistry), art history, and practical hands-on art conservation skills. This three-legged stool is something I enjoy most about my career because my expertise is quite multi-disciplinary, something I have always valued throughout my educational path.
What did you enjoy most about your programme at Exeter, and what was the biggest highlight?
I really enjoyed how you could narrow in on your own interests. After discovering art conservation, I began to look at how I could tailor my degree to focus a bit more on art history and conservation ethics since I had mostly been focusing on mythology at that point. I was able to look at the ethics of removing layers of cartonnage from Egyptian mummies, and my thesis focused on concepts of originality and authenticity of Roman "copies" of Greek "originals." The beginning of the year in 2020 was when COVID became very serious in England, and so I had to return to Canada, but I never would have been able to continue my studies if it wasn't for the amazing support from everyone in the program.
What skills and experiences have been most useful for your career?
Being flexible/resilient and building up a good knowledge base. Art conservation a lot of the time is almost like a riddle. You have to figure out what the object is, what it is made up of, and then figure out how to conserve it from there. Sometimes things works, and sometimes they really don't. It is in these times that you have to be confident in what you have studied outside of the lab, and also be resilient to go back in and try something else.
What advice would you give to a current student who wishes to pursue your career?
Do you chemistry classes! Unfortunately I had to take a year to take organic chemistry because I did not have all of my requirements for applying. Chemistry is such a vital component of this field, and it has been so great beginning to see how chemistry can be applied in an art conservation context.
What are your plans for the future?
For my program, I have two internships to complete in the summer after studies each year. My plan is to complete one at the British Museum, or possibly the British Library, next summer. I hope to set up my professional career in either England or Europe, and so having already lived in England, I am very grateful that I now know how to go through that process.