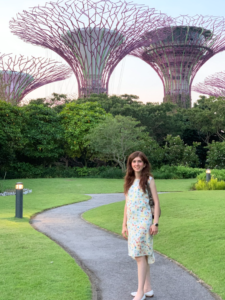 Raniah Raed Talal Shawkat graduated from the University of Exeter with an Msc in Finance and Management. She's currently Acting Credit Manager, Iiwwa Inc, Jordan.
Where do you currently live and work? 
I now live and work in Jordan. After my studies in Exeter, I joined multiple internships then started working as credit officer for SMEs clients at liwwa, Inc. I've been with them for 3 years and 3 months, and recently promoted as Acting Credit Manager.
Why did you choose to pursue this career?
I chose this career as it needs analytical skills in addition to decision making, which I like. And I can use the knowledge and skills acquired during my studies to implement and develop through this career.
 Why did you choose to study at the University of Exeter?
The first point as it is one of the top UK universities, the second thing is my interest in the programme I wanted to study and finally its location as I know some relatives and friends who studied there previously and could gave me ideas and advice about the city. I liked everything about Exeter: the city, the campus, the availability of resources at the library.
Why did you choose your particular degree subject?
I liked the programme and its modules. I also took into account recommendations form friends studied there before me.
How did your degree help you prepare for the position you are in now?
It taught me analytical thinking, quick problem solving, ownership, entrepreneurship, solidarity, agility, and active listening.
Please tell us about the application process for your graduate job, and how you prepared and/or managed this?
I found the job through LinkedIn, went through multiple interviews, the cover letter and a follow up email reflecting on the interview, expressing the interest, the skills and values that can be added had a good impact.
Did you use the Career Zone whilst at Exeter? If so, what especially helped?
I attended some job fairs at the campus which was helpful to get an idea and planning about the career.
What aspects of your UK university education worked in your favour during the application process?
I could sense the focus on developing analytical skills and strategic thinking. Also, living abroad alone for the first time in my life taught me a lot of things and made me a stronger person mentally.
What did you do at university that you think gave you a competitive advantage in the job market in your home-country?
The practical dissertation part of my degree. It gave me the opportunity to work on a real life cases, analyse the financial theories and practice forecasting and valuation which solidified all that I had learnt through the programme on a practical level. I also was a member of the Financial group.
What were the biggest obstacles in gaining a graduate job in your home-country?
There is almost no or very rare organizations that offer internships for graduates, this has a bad impact especially for people who didn't gain much experience before getting their postgraduate degree.
What do you know now that you wish you knew when you were applying for opportunities?
The importance of continuous learning and obtaining professional qualifications.
What is your advice for any international student seeking a career in finance and wanting to follow a similar path to you?
I would encourage them to focus on their studies from the first day they join the school.
Our alumni networks in these countries are available to help you socially and professionally now and in the future. You can connect with them whilst you are a student to take advantage of their support when you are back home during holiday season, and of course, reach out to them when you graduate.
 The Alumni Office organise regular virtual employability events, which are a useful resource both for graduates and current students. For a full listing of events, please click here and to watch historic records, please click here