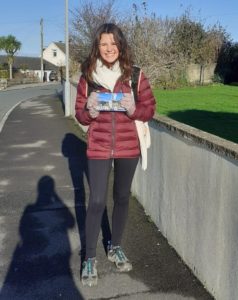 MSc Sustainable Development student, Chloe Lawson, recently undertook a placement with Helston Climate Action Group as part of the optional Independent Work-Based Learning module on the MSc programme. 
"The module lead presented us with a number of potential projects to get involved with, and the one with Helston Climate Action stood out the most to me. This is for a number of reasons, mainly though because whilst I felt I had skills aligned with this project there was also the opportunity to get involved with things I had never done before, and that challenge particularly drew me to this placement. I also strongly believed in the project aims, and supported the cause of the organisation as a whole.
"My advice to anyone pursuing a placement is to utilise the existing teams that are there to help you! This includes tutors, module leads, the Career Zone and of course the Placements team."
Throughout my placement I was involved with a variety of work, from researching barriers for people engaging with climate change, to designing and analysing surveys to understand how much locals knew about and engaged with climate change. As well as this I helped promote the project using a variety of platforms, and created blog posts about how to join the project. Additionally I helped design leaflets to advertise this project and then helped deliver these leaflets to locals across Helston (in line with COVID-19 guidelines). The pandemic significantly affected my placement. All our meetings took place online, we had to halt leafleting when a lockdown was announced and as we couldn't talk to a lot of people in person there was a very low sign up rate to the project.
However, despite COVID-19 I had a very positive experience in undertaking a placement, and I am so glad I choose that module, so thank you for everyone who had that possible! I also managed to get another internship as a result of one of the team members on my placement sending me the role and then providing a glowing recommendation. So there are endless possibilities of what a placement could lead to – even during a pandemic!
"…there are endless possibilities of what a placement could lead to – even during a pandemic!"
My advice to anyone pursuing a placement is to utilise the existing teams that are there to help you! This includes tutors, module leads, the Career Zone and of course the Placements team. I wouldn't have found my placement without them. However, I would also say never be afraid to get in touch with companies yourself, remember you are a valuable asset and companies also gain something by having you there."