Georgie Rubega is a current University of Exeter student studying BA Liberal Arts with Study Abroad. In June 2021 she took part in the Pathways to Arts, Culture and Heritage programme.
Tell us about the work you carried out during your Professional Pathways internship.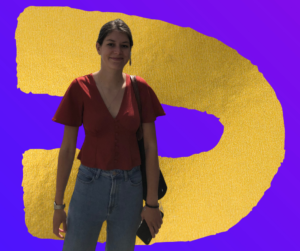 During my Professional Pathways internship at Powderham Castle my job title was Educational Visit Programmer, and my main role was to work on a project to create a teacher pack for a new school class visit to Powderham. This involved extensive research on both the history of Powderham, including visiting and touring the castle, and the educational programming area of the heritage sector in order to know what to include in the document. I had to make sure that my proposed school visit supported the National Curriculum, had cross-curricular activities, and of course, was inspired by and originated from Powderham Castle's history. Overall, it allowed me to be creative in the production of the final document and thinking up the activities and use my written communication, IT, and research skills extensively.
How has the Professional Pathways programme helped you in taking the next steps in your career?
The Professional Pathways programme was really useful as it helped me confirm my decision to pursue a career in the Arts, Culture, and Heritage sector. The training days were an amazing introduction to the different areas of the sector, such as educational programming, marketing, commercialisation etc. and really showed me how diverse and interesting the sector is. The internship itself at Powderham Castle also opened my eyes to the reality of working for a heritage organisation and the experience I have gained will certainly boost my CV and help me stand out in the future.
"The Arts, Culture, and Heritage sector is known to be quite hard to get a job in and so any experience you can get will definitely help to boost your CV and make you stand out."
How do you think this experience will impact on your employability as you enter the job market as a recent graduate?
The Arts, Culture, and Heritage sector is known to be quite hard to get a job in and so any experience you can get will definitely help to boost your CV and make you stand out, and I know having my internship at Powderham Castle to look back on and refer to going forward, will definitely stand me in good stead for my future career! Furthermore, I feel I developed a good relationship with my line manager and so I hope this networking and connection will also help my employability as I now have a contact in the sector who may think of me for roles in the future.
What advice would you give to a student who has to complete an internship remotely?
I would say that maintaining regular contact with your line manager is a must in order to stay motivated and to check you are working as they want you to – during my internship we had a WhatsApp chat which was really useful as it meant I could get replies to my messages quicker than if I was to send an email, and we also did a few Zoom meetings to chat more extensively. There were two other Pathways students also doing the Powderham Castle internship, so we also had a group chat together to discuss how we were getting on with our work and ask each other any questions which also helped to not feel as isolated and more like a team!
Applications for Professional Pathways 2022 are now open and you can find further details on the different Pathway programmes and how to apply. We plan to run the training in-person on our Streatham Campus and internships available will be a mix of workplace-based roles and remote-working positions. The deadline to apply is Tuesday 18 January 2022 at 1:00pm.