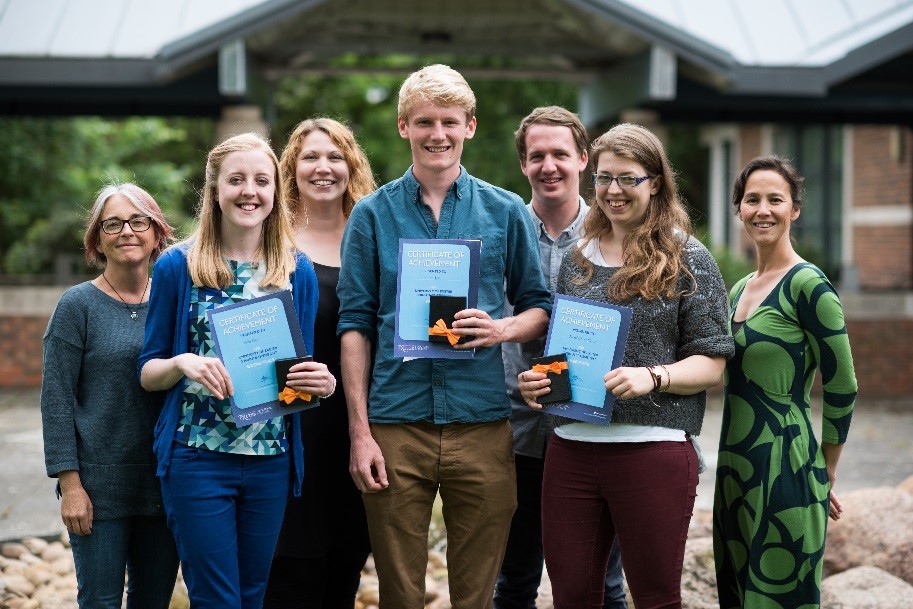 An 80,000 word thesis would take 9 hours to present
Their time limit…3 minutes
Three Minute Thesis (3MT®) is a National competition for postgraduate research students, run by research organisation Vitae. 3MT® challenges doctoral candidates to present a compelling spoken presentation on their research topic and its significance in just three minutes. The Doctoral College held a 3MT® competition on 30th May 2017, with 11 candidates competing to represent the University of Exeter in the National semi-final. A panel of esteemed judges assessed the 7 presentations according to the 3MT® judging criteria, with staff and students from across the University in attendance to hear about the cutting edge research of our postgraduate research students.
The competition was a showcase of the fantastic research between undertaken at the University, by our equally fantastic postgraduate researchers. You can watch our prize winners – Tim Gordon (Marine Biology), Holly East (Geography) and Elisabeth Matthews (Astrophysics) – through the links included below.
3rd Place – Elisabeth Matthews, Astrophysics
Through the Looking Glass
The Very Large Telescope hosts the biggest telescope mirror in the world. It works as a massive zoom lens, allowing us to peak at the secrets that nearby star systems hide. Hidden under the bright glare of the starlight are planets, asteroid belts and comets: in fact, the latest research suggests that there are more planets than stars in the galaxy! To understand these systems, we need to use clever imaging techniques to peer through the glare of the star, and reveal the hidden planets. Join me on a journey through looking glass, where we learn how to peer through the star's glare, and reveal the secrets on the other side.
2nd Place – Holly East, Geography
Maldivian coral reef islands: a drowning nation?
Coral reef islands are low lying (<3 m) accumulations of sediment produced by organisms on the surrounding reefs. They are of high ecological and socioeconomic significance, particularly because they provide the only habitable land in atoll nations. As a result of their dependence on locally generated sediment and low elevations, reef islands are regarded as extremely vulnerable to environmental change, particularly sea-level rise. My research aims to improve our understanding of Maldivian reef island vulnerabilities by answering 2 key questions: (1) what are reef islands made of; (2) how did reef islands respond to past changes in sea-level?
Winner – Tim Gordon, Marine Biology
Helping Nemo find home
Coral reefs are some of the world's most beautiful, most valuable and most threatened ecosystems. Reef survival depends on healthy fish populations, which require reliable influx of new juveniles. Young fish spend their first few weeks of life in the open ocean before finding a reef to settle on, often returning to the place where they hatched. But navigation on this epic journey is becoming increasingly difficult in oceans dominated by chemical pollution, noisy shipping lanes and climate change. Our challenge is to preserve natural environments so juvenile fish can still find their way home – the future of coral reefs depends on them.
Tim was shortlisted for the National Semi-Final, but unfortunately had to withdraw from the competition to complete his field research as the Lead Scientist on a boat sailing to the Central Arctic Ocean.
We plan to run the event next year as a celebration at the end of our week long Postgraduate Research Showcase, on Friday 18th May 2018, in the Alumni Auditorium. We hope you will enjoy us, and encourage your students to present their research…in 3 minutes!