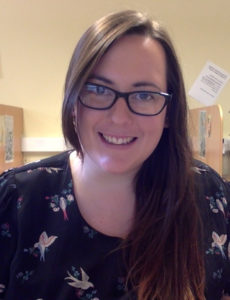 Gemma is a 4th year (PT) Film PhD student, who shares her top 5 reasons to apply to become a PhD tutor with The Brilliant Club. Originally posted on The Brilliant Club website. 
Scholars Programme PhD Tutor Gemma Edney from the University of Exeter shares the top 5 reasons to apply to become a PhD Tutor with The Brilliant Club!
There are so many reasons to apply to be a PhD Tutor with The Brilliant Club, but I have managed to whittle it down to five based on my own experience with The Scholars Programme.
It's an extremely worthwhile cause
The stats speak for themselves, here. Only  1 in 50 of the most disadvantaged quintile of 18-year olds progress to a highly-selective university, compared to 1 in 4 of the most advantaged quintile. The education gap between pupils from underrepresented backgrounds and their more affluent peers is huge, and it is important that we, as higher education practitioners, try to help redress the balance. This is what The Brilliant Club aims to do, with great success. As a PhD Tutor, you can help narrow the gap and contribute to a great cause.
You can make a real difference
When I first became a PhD Tutor, I was skeptical about the amount of difference I could make in the space of seven weeks. However, I soon realised that it isn't just about the pupils' subject knowledge, but the other ways they can develop through the programme. Working as a PhD Tutor, you get the chance to see the progression your pupils make week by week. You have the opportunity to make a genuine difference to their lives, and the chance to have a lasting impact on their self-confidence, work ethic and realisation of future opportunities.
It's a chance to get your research off campus
It is so easy as a PhD Researcher to just spend all of your time in the library, at your computer, or in the lab. Working as a PhD Tutor offers you the opportunity to take your research off campus, share it with other people, and get them interested in your subject. You can learn how your research can be relevant to the current education system, and disseminate it to your pupils, their teachers, and other PhD tutors. This isn't just good for professional reasons, it's great for your own confidence in your research area too: there's nothing like capturing the imagination or interest of someone else with your own project.
It's great for your professional development
Widening Participation is fast becoming a focus of many universities; experience with a WP organisation like The Brilliant Club can count for a lot for Higher Education institutions. Since becoming a PhD Tutor, I have been asked by my university to run training sessions for other PhD researchers and to help co-ordinate Widening Participation programmes at a university level, which is all great experience for the CV, as well as a good opportunity to develop understanding of the workings of Higher Education institutions more generally.
You can meet great, like-minded people
One of the best things about becoming a PhD Tutor is entering into the fantastic community of existing tutors and Brilliant Club staff. Everyone you meet at training, launch events or graduations is passionate about what they do, and the enthusiasm is infectious. You become part of an amazing network of individuals all working towards the same goal. I have personally made some great friends through The Brilliant Club, and it's great to share experiences and tips with other researchers.
Overall, I would recommend working as a PhD Tutor to anyone who is interested in increasing access to Higher Education, or wants to disseminate their research in a creative and fulfilling way.
Written by: Gemma Edney, a 4th year (PT) Film PhD Student- Want to learn more about Gemma and her research? You can look at her research profile, or follw her on twitter @GemmaEdney
This post was originally posted on The Brillant Club webpage, if you wish to find out more about The Brillant Club and what they do check there website.