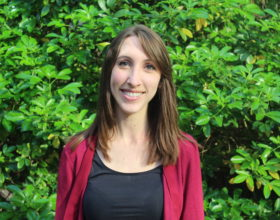 Name: Anna-Marie Linnell
Current Role: Regional Manager (West of England)
PhD Subject and Graduation Year: English literature, graduated 2016

How did you become interested in the area that you work in?
The Brilliant Club supports PhD researchers to design teaching programmes based on their research, that will inspire more pupils from underrepresented backgrounds to study at highly-selective universities. The idea is that pupils will have the chance to stretch themselves academically and think about their options after school in a new way, whilst we train PhD researchers to develop their impact. Throughout my PhD, I was committed to the principle that academics should be able to demonstrate meaningful impact from their research. I produced public engagement materials for the Stuart Successions Project and ran a community history project funded by RCUK. By doing this, I realised that with the best will in the world it's hard for academics to be able to design and/or deliver meaningful programmes for social impact on top of their research commitments. It's also difficult for academics to evaluate that impact and think about how it can be further developed. When I found out there was a charity that specialises in identifying the barriers and challenges that young people face within the school system, and then trains researchers to help tackle them, I knew that was something I wanted to be part of.
How did you get to where you are today? (i.e. a brief overview of your career trajectory to date)
I started an undergraduate degree at the University of Exeter in 2008 and continued straight through to a MA in English Studies. During my MA, I successfully applied for a doctoral studentship with the AHRC Stuart Successions Project. This studentship was supervised by Professor Andrew McRae (University of Exeter) and Professor Paulina Kewes (University of Oxford), and I taught as a Graduate Teaching Assistant at Exeter throughout. I joined the Brilliant Club as a Programme Officer for the South after completing my viva, and have since moved to be Regional Manager for the West of England.
What does your current role involve, any skills and/or personal qualities needed?  
The most important thing to my role is passion and commitment to the Brilliant Club's mission. It's a varied role, which means working with a range of stakeholders – including teachers, university staff and researchers – who all want to make a positive difference for the young people we work with. You need a lot of empathy and great listening skills, as well as excellent time management and the ability to work well under pressure. The skills I developed through my PhD are all useful; the ability to set your own deadlines, grasp and apply core information and concepts, and attend to detail, are all vital to keeping on top of the role.
What do you enjoy most about your role?
The amount I get to learn!
Are there any things that are not so good?
I'm lucky that the Brilliant Club has a flexible working hours policy and we are out on the road visiting schools and universities a lot – I find sitting at a desk 9am-5pm quite hard after years of independent study.
Has anything surprised you about your role?
Having worked at the charity for a year already, I was going in with open eyes.
What key tips would you give to any students who might be considering entering a similar field today?
The most important thing is knowing your stakeholders and being able to show consistent interest in the field you are applying to, as well as the skills to do the job. If you are a researcher interested in creating social impact, think carefully about what kind of impact you are interested in – is it working with schools and young people, engaging audiences through the media, or working with government bodies or industry groups? Seek out opportunities to develop in these areas, whether it's an AHRC policy internship or relevant placement through your DTP. Funded work and paid opportunities mean more to a potential employer because it shows that your services were valued, so don't do anything for free.