Author – Lili Colman (PhD Student) – Centre for Ecology and Conservation, Penryn Campus
From the moment I arrived at the University of Exeter to undertake my MSc in Conservation and Biodiversity, I quickly fell in love with the University, the Campus and Cornwall. Discovering all the cutting-edge research being carried out across the University of Exeter has been a definite highlight for me. The opportunity to participate in the Africa field course was one of the most amazing experiences of my life and one I will always cherish, having helped me build a practical understanding of large-scale conservation issues. My MSc research project centred on analysing 30 years of mark-and-recapture data from juvenile green turtles on an isolated tropical archipelago in Brazil, under the supervision of Prof Brendan Godley. This published work contributes important insights regarding demographic parameters and population trends for this species.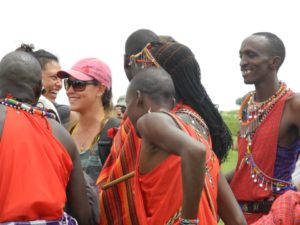 Upon my return to Brazil, and whilst working as an environmental consultant there, I applied for a PhD at Exeter to work with TAMAR (the Brazilian Sea Turtle Conservation Programme). This on-going conservation project illustrates a powerful example of how marine turtles and coastal communities can co-exist in an ever-changing world. Despite a history of over-exploitation, the five different species of marine turtles that nest in Brazil are now fully protected by law. And as a result, recent years have shown very promising signs of population recovery. Perhaps most notably, a major part of this success can be attributed to the active involvement of the surrounding coastal communities in the conservation work. What once started in the direct employment of former egg poachers, now involves a wide range of activities to encourage environmental awareness in the area. This includes environmental campaigns, alongside the support of alternative, sustainable economic opportunities for the communities living near the nesting beaches.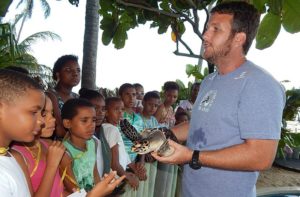 My PhD research focuses on the highly migratory leatherback sea turtle (Dermochelys coriacea). This species has its major nesting site deep in the southwestern Atlantic ocean in eastern Brazil, on the northern coast of Espirito Santo. Projeto TAMAR has been monitoring the area since 1983 and there are promising signs of population recovery for the species. However, with a small population size and restricted geographical distribution, alongside the emergence of new threats – coastal development, fisheries bycatch, climate change, marine and light pollution – the population continues to be of conservation concern.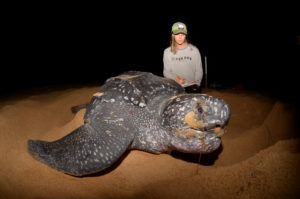 As part of the Marine Turtle Research Group (MTRG) at the University of Exeter, we are using a variety of techniques to investigate this population's ecology, trends and the main impacts they are facing. This research is being done in collaboration with TAMAR in Brazil and Ciência Sem Fronteiras , a scholarship programme from the Brazilian Government. The knowledge obtained in this study will be used to design better and more effective conservation strategies for this species. I was delighted that my PhD project was chosen to feature in one of the films to celebrate TAMAR's 35th anniversary:
#ExeterMarine is a interdisciplinary group of marine related researchers with capabilities across the scientific, medical, engineering, humanities and social science fields. If you are interested in working with our researchers or students, contact Michael Hanley or visit our website!