Author – Dr Jo Garrett
Over the last four years, researchers from across Europe have been collaborating on a multi-disciplinary project investigating the links between blue spaces and human health and well-being.
The project is now coming to an end and we have produced a BlueHealth Benefits resource which provides a snapshot of the evidence we've collected to date, including useful links and the challenges and opportunities urban blue spaces may face in the future.
What are blue spaces?
In the BlueHealth project, we define blue spaces as outdoor environments–either natural or manmade–that prominently feature water and are accessible to people. This can range from an ornamental fountain in an urban park to rivers, lakes and seas. The BlueHealth project also explored the potential uses of virtual blue environments.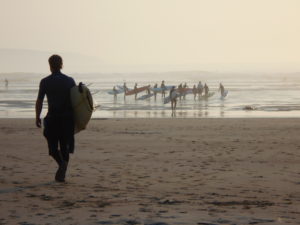 Why blue spaces?
There is growing evidence that living near or visiting natural environments has benefits for health and well-being. These benefits may also be particularly important for people living in towns and cities where exposure to nature can be limited. However, this research tended to focus on green spaces and much less was known about the links between blue spaces and health. The BlueHealth project therefore had a particular focus on blue spaces in urban areas.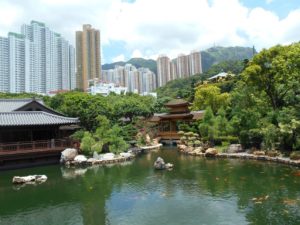 How did we go about the research?
The BlueHealth project had several components utilising a range of methodologies. These included large scale data analyses, linking blue spaces and population level health outcomes; experiments which improved the access and quality of blue spaces; experiments with virtual blue spaces; assessing the qualities of existing urban blue projects around the world and exploring future scenarios of blue spaces. BlueHealth has also produced a range of tools to make comparable assessments of urban blue spaces before and after any proposed changes to help with decision making and management.
BlueHealth carried out a bespoke 18-country survey focused on the recreational use of blue spaces and the relationship with human health. The survey included questions about how often people visit different natural environments including a range of blue and green spaces. We also explored a specific visit to a blue space in detail, asking people about their most recent visit, what the environment was like and a whole range of questions about the visit. We are using this to explore how well-being outcomes from a visit are related to these different aspects.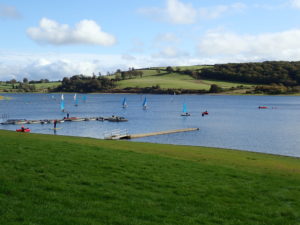 BlueHealth has also investigated how a series of small-scale interventions that aimed to improve access to blue spaces have affected recreational use, physical activity and mental wellbeing. In Spain, we found that people living in a more deprived area of Barcelona did more physical activity after public access to a major urban river network was improved. In Plymouth, working in partnership with the local council, we improved facilities and access to an urban beach and found this was associated with higher well-being for people living in the area.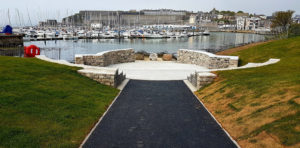 BlueHealth has also explored how virtual environments might be used in health and social care settings to boost wellbeing for those less able to visit blue spaces. Researchers have designed computer generated interactive virtual blue spaces and also explored the use of 360 video, filmed in Cornwall.
What are the benefits?
Blue spaces can have direct effects on the physical environment, such as providing habitat for wildlife, regulating urban temperatures, which may be particularly important as the climate warms, and regulating water quality. The BlueHealth project was particularly focused on how blue spaces can help to address a broad range of societal challenges such as lack of exercise, poor mental health, and health inequalities. Our large-scale data analyses have found that those living closer to the coast report better general and mental health and more physical activity [1-5] and that the benefits are greater for those on low incomes or in more deprived areas. On a smaller scale, our research has also found that short walks in urban blue spaces from work can have benefits for health and wellbeing [6] and that underwater blue environments can reduce boredom [7].
Blue future
The world is undergoing rapid climatic, environmental and societal change, and our blue spaces face challenges in the future. However, the BlueHealth project has increased the recognition of the importance of blue spaces, the word "BlueHealth" was even considered for addition into the dictionary this year. BlueHealth has developed evidence and tools helping to ensure a healthy blue future.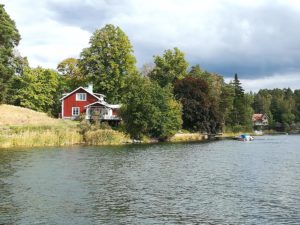 Resources:
References
1. Garrett, J.K., et al., Coastal proximity and mental health among urban adults in England: The moderating effect of household income. Health & Place, 2019: p. 102200.
2. Garrett, J.K., et al., Urban nature and physical activity: Investigating associations using self-reported and accelerometer data and the role of household income. Environmental Research, 2020. 190: p. 109899.
3. Garrett, J.K., et al., Urban blue space and health and wellbeing in Hong Kong: Results from a survey of older adults. Health & Place, 2019. 55: p. 100-110.
4. Pasanen, T.P., et al., Neighbourhood blue space, health and wellbeing: The mediating role of different types of physical activity. Environment International, 2019. 131: p. 105016.
5. Hooyberg, A., et al., General health and residential proximity to the coast in Belgium: Results from a cross-sectional health survey. Environmental Research, 2020: p. 109225.
6. Vert, C., et al., Physical and mental health effects of repeated short walks in a blue space environment: A randomised crossover study. Environmental Research, 2020. 188: p. 109812.
7. Yeo, N.L., et al., What is the best way of delivering virtual nature for improving mood?: An experimental comparison of high definition TV, 360º video, and computer generated virtual reality. Journal of Environmental Psychology, 2020: p. 101500.
#ExeterMarine is an interdisciplinary group of marine related researchers with capabilities across the scientific, medical, engineering, humanities and social science fields. If you are interested in working with our researchers or students, please visit our website!