World Turtle Day was created as a yearly observance to help people celebrate and protect turtles and their habitats across the world. This #WorldTurtleDay2023 we are celebrating the University of Exeter early career researchers conducting amazing turtle research! Read on to meet the MSc, PhD and Postdoc researchers in our Team Turtle: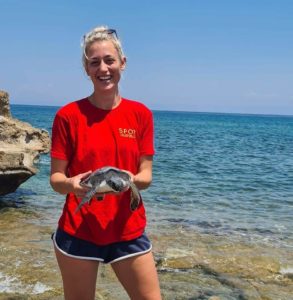 "I first started researching marine turtles during my MSc at the University of Exeter where I collaborated with the Society for the Protection of Turtles (SPOT) in Cyprus. I then worked for SPOT as a fisheries onboard observer, stranding and necropsy lab manager and a team leader during the nesting season.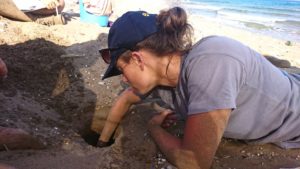 I'm now a final year PhD researcher and my current research focuses on evaluating the interactions between the small-scale polyvalent fishery and marine turtle populations in Northern Cyprus. I use a variety of tools to do this including at sea and remote assessment of fishing effort and techniques, biologging, and dietary analysis to quantify and identify drivers of marine turtle bycatch, characterise marine turtle habitat utilisation and foraging ecology."

"My research focuses on several aspects of marine turtle ecology and conservation. I am currently a Postdoctoral Research Associate at the University of Exeter, working on a Darwin Initiative-funded project which aims to predict the impacts of climate change on green turtles at the remote UK Overseas Territory of Ascension Island.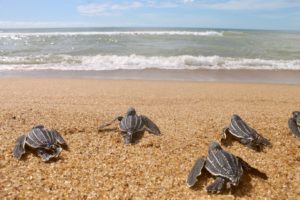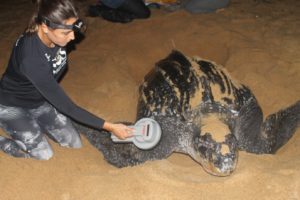 I am also involved in research projects on marine turtles in my home country, Brazil, where I am currently working with data analyses which include studying the impacts from a major mining dam burst over marine turtle nesting grounds in Brazil, spatial ecology using satellite tracking, and leatherback turtle ecology and conservation."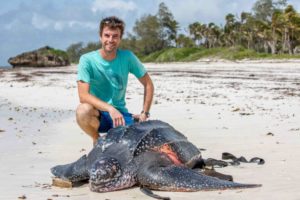 "My research is about sea turtle ecology and conservation in Kenya. Studying turtles in an area where relatively little is known about them is exciting and to then provide insights that will help protect turtles from data collected by a local conservation initiative makes it all the more special."
"I am studying MSc Conservation and Biodiversity and am currently working with the Society for the Protection of Turtles (SPOT) in Northern Cyprus to collect more data for my dissertation on sex-specific diet of loggerhead turtles. We expect to see some differences in male versus female resource use as they are under different evolutionary and energetic pressures, mainly related to reproduction. Part of my work here is also helping with stranding cases, monitoring Alagadi beach for turtle activity and helping with necropsies."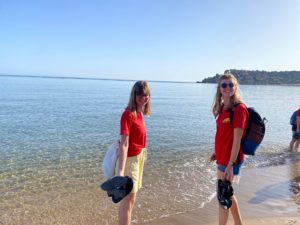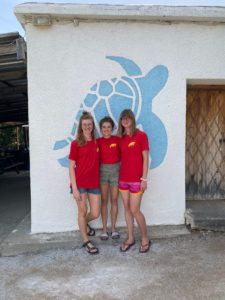 Hind has recently completed her PhD on climate and marine turtles in her native Abu Dhabi. She has now returned to work for Environment Agency – Abu Dhabi. Hind is a shining light for marine conservation in the Arabian Gulf. A committed government scientist for her home government of Abu Dhabi, she has formalised much of her work over the last few years into a PhD study. In doing so, she has worked very hard to share scientific information across her region as well as raising environmental awareness with a dedicated approach to outreach activities.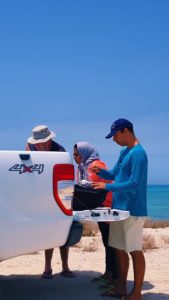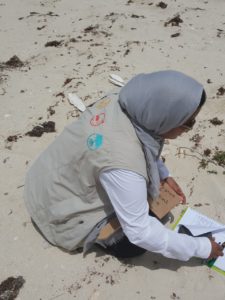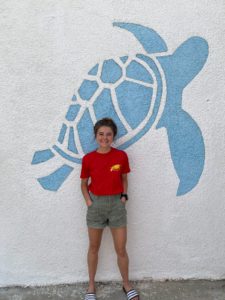 "The incubation temperature of turtles eggs is extremely important for their successful development, determining not only whether they survive but also the sex of the hatchlings. Hence, the temperature at which female turtles chose to lay their eggs is crucial for populations to persist in our warming climate.
Using data collected at Alagadi beach over the last 30 years, I will be trying to ascertain the extent to which female green turtles might be changing the timing of their nesting behaviour in order to align with optimal temperatures for egg incubation. I will be using data collected on approximately 700 individual females which will allow me to ask questions such as, are older females and younger females responding in different ways to sea surface temperature increase? This knowledge will help us to predict how the population will persist under climate change."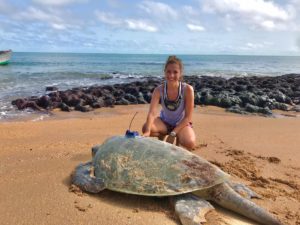 "I research sea turtle migrations and connectivity across West Africa and the Atlantic, using satellite tracking and genetic tools. In collaboration with Biodiversity Institutes in Guinea-Bissau, Mauritania and Senegal, we generate spatial distribution maps to support spatial marine planning and conservation management."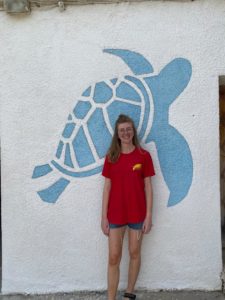 "I'm currently researching green turtles in Northern Cyprus with SPOT (Society for the Protection of Turtles) for my Masters project. I'm studying MSc Conservation and Biodiversity and my research focus is microplastic ingestion, which is unfortunately very common, especially in juveniles. This involves the not so glamorous, but incredibly interesting job of necropsying and gut content analysis of bycaught and stranded turtles reported to the project."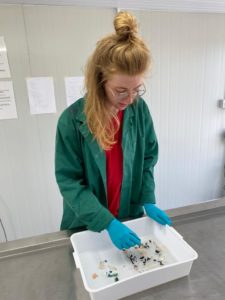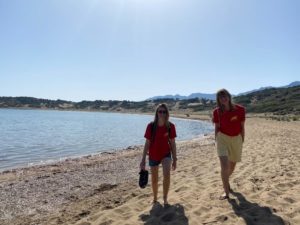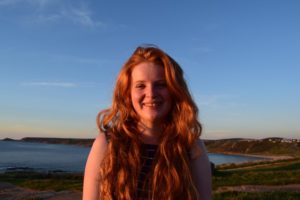 "My research investigates the impacts of plastic pollution on marine animals. Plastic debris, especially microplastics, have been found almost everywhere. Turtles are particularly vulnerable as they use a number of habitats at different life stages: many turtle species feed on the seabed, post hatchlings are present in the surface layers of the ocean, and beaches are used by nesting females, eggs and hatchlings."
Dr Emily Duncan – Postdoctoral Research Fellow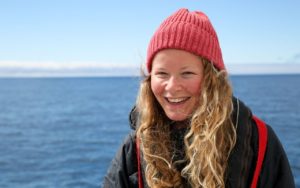 "My research focuses on the impact of plastic pollution on marine turtles; including plastic ingestion, entanglement and degradation of crucial habitats"
Want to know more about our turtle research? Take a look at last year's World Turtle Day blog!