Sometimes, we all have a craving for a big, plateful of vegetarian goodness. If you're like me, then that is the case all the time! During my time in Exeter I've managed to find some vegetarian and vegan restaurants which are absolutely fantastic. Of course, nearly all restaurants have some yummy vegetarian options but this list is just 100% vegetarian restaurants! If you're a vegetarian, vegan or a carnivore with the occasional desire to go meat-free, then this list is for you!
The ciabatta with roasted vegetables. The sides- a green salad, a coleslaw and a little bowl of spiced rice with cashews.

1. Herbies – This one is actually my personal favourite. Called Herbies at 15th North Street in Exeter, it's right behind the Wilko in Guildhall. This cute and cosy little place has a very cheerful vibe! On entering it, the first thing I noticed was the lovely cheesy aroma, which made me really eager to try their food. The best part is that they get your order pretty quickly and their portion sizes are massive! My favourite is the ciabatta with roasted veggies. Its absolutely delicious and smells heavenly!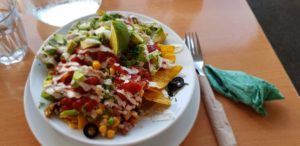 2. Rabbit Vegan Cafe – Rabbit Vegan Cafe is at 3 Well Street, right next to Heera supermarket and is quite close to Sidwell Street. They serve fully vegan food and even have vegan cheeseburgers! My personal favourite here is the Burrito Bowl – with beans, olives, salsa and tortilla chips –  what is there not to like! As a bonus, there is also a vegan shop managed by them nearby. Pop in to take a look there to get some more treats!
These are just a couple of 100% vegetarian restaurants in Exeter. For more veggie ideas check out our blog 'A vegetarian's guide to Exeter'.
Where's your favourite place to eat vegetarian food in Exeter?