If you made the wonderful decision to move to the UK to pursue your undergraduate studies or as part of an exchange student, I assume it's partly because you want to experience part of the culture this country has to offer. With that in mind, allow me to suggest to you my top ten things to do while here to make the most, not only of the country but of the perks of living in this beautiful corner!
1. English breakfast and fish and chips – You can't have a UK bucket list without including their most traditional and worldwide famous dishes.  So go to your local pub and order a "protein dense" breakfast – as I've heard some locals call it–. I promise you, you'll be full for hours. You can even make a brunch out of it. Alternatively, might I suggest you go for the ever so classic, fish and chips? It's straight to the point, perfect for a calm day when you don't feel like cooking or having too much for lunch or dinner, and it does not get more traditionally British than that.
2. Pub Quiz – Now that we are on the subject of pubs, the second place of my British bucket list goes to the Pub quiz. Honestly this is a self-explanatory activity that plenty of pubs have around here, and what makes it even better is that they some of them might have themes like Harry Potter or Movie trivia. It's a great opportunity to gather some friends and go have some fun over at the pub.
3. High Tea/Cream tea – If you are looking for something a little more upscale than the traditional English breakfast, why not indulge in one of the most stereotypical and delicious British activities there is? Or if you want something a little bit more local to Exeter, you can always try cream tea. This is tea, with scones with jam and, well, cream. It is simple and it is delicious. But bear in mind, the way you assemble your scone, whether it's jam or cream first will matter a lot depending on whether you are in Devon or Cornwall.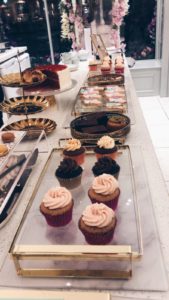 4. Dartmoor – One of the best things about living in Exeter is that you have one of the best national parks basically in your backyard. Dartmoor will offer you some of the most beautiful views and with its wide range of nature based activities it is one of the best places you can go to enjoy what the UK has to offer in terms of landscapes.
5. Trifle – Fifth place goes to a classic one. If you've ever seen friends then you remember when Rachel tried to make one of this and well… we all know how the episode turns out. The good news is that while studying in Exeter you can take advantage of being here and try the actual dish, without the beef sauté and onions.
6. Summer solstice in Stonehenge – Teotihuacan might have the spring equinox, Stonehenge has the summer solstice. It's pretty well-known that Stonehenge has more to itself than just being some standing rocks, when you go to the place there is definitely an aura around it that makes it quite special or mystical. To add to that feeling why not go there during the summer solstice and celebrate that the cold is finally not in season.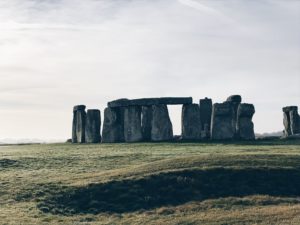 7. Sticky toffee pudding – Returning to the great topic of food, this pudding is truly something that you will not find anywhere else but here, so much so that when I ordered it –without truly knowing what toffee is since we don't have it where I'm from– the waiter had a hard time explaining it to me. But trust me you will not regret giving this a go, it is quite delicious, even if I can't explain exactly what it is besides saying that is a desert, that's sticky and sort of cakey.
8. Hadrian's Wall – Being a big fan of history, I think this is a must in the bucket list. The simple fact that this remnant of another time (and another regime) has been around since the period the Romans controlled the majority of this island, it makes it pretty impressive. So I suggest you make a weekend trip out of it and visit this World Heritage Site.
9. Cornwall – Okay, listen, generally speaking, the UK gets a really bad reputation for not having pretty beaches or a nice sea. However, that is absolutely not the case and the beautiful county of Cornwall will prove it to you. This beautiful corner of England is like a hidden paradise with bright blue sea, yellow beaches and even perhaps you might see a dolphin or two.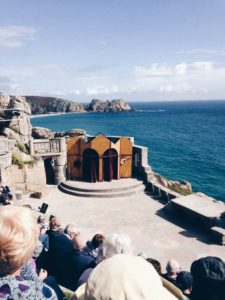 10. St Nectan's glen and Tintagel. The last place honours one of the biggest stories that permeates people's minds when thinking of the UK. If Greece has Troy, then England has the Legend of Arthur. It is impossible to come to this country and not get in touch with the place that will transport you to the Arthurian times and will quite literally take you to the place where ancient powers, knights, and ladies of the lake roamed the territory. Even if you are not into the fantasy aspect the legend and that this place exudes, you have to go there and be mesmerized by the nature, the ruins around the area and one of the most famous characters this island has ever known.