Our world-leading marine research underpins a wide range of undergraduate and postgraduate programmes: Research-led teaching | Exeter Marine | University of Exeter. In our Graduate in Focus series we look at the achievements of our MSc graduates who have excelled in conservation around the world since studying with us.
Today we meet Liliana Colman, MSc Conservation and Biodiversity graduate (2013) and now a postdoctoral researcher at projeto TAMAR in Brazil and the University of Exeter!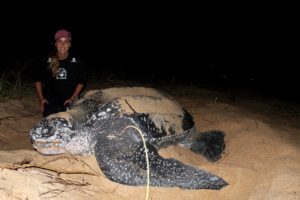 Hi Lili! First off, why don't you tell us a bit about what you have been up to since studying your MSc with us?
After graduating from my MSc, I returned to Brazil, and whilst working as an environmental consultant there, I applied for a PhD at Exeter to work with TAMAR (the Brazilian Sea Turtle Conservation Programme). I was granted a scholarship from the Brazilian Government through a programme called Science Without Borders, and I went back to the UK to conduct my PhD studies, investigating the ecology and conservation of leatherback sea turtles in Brazil. I have recently finished my PhD and I am currently starting a postdoctoral research to continue the research with the leatherbacks in Brazil.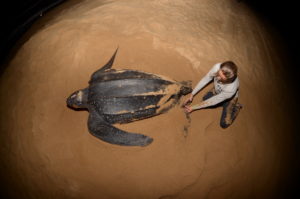 We're glad you are still working with us! How did you find the move to Cornwall from Brazil?
It was my first experience living abroad and from the moment I arrived at the University of Exeter to undertake my MSc in Conservation and Biodiversity, I quickly fell in love with the University, the Campus and Cornwall. Discovering all the cutting-edge research being carried out across the University of Exeter has been a definite highlight for me. Being able to continue surfing while conducting my studies was an amazing part of being at the Penryn Campus and I believe it helped me a lot to stay positive and a great way of making new friends.
I had a great experience while living in Cornwall. I loved it so much that I decided to come back and conduct a PhD for four years in Cornwall. I think the University is very committed into ensuring students are well supported. I had English tutors who helped me a lot with the language both in academic and social aspects. The campus surroundings are super calm and easy going. Falmouth has a great student vibe, with lots going on for people to enjoy during their time off.
For me it was a great personal and life experience. I had the chance to live in a different country, experience a new culture and make new friends. I learned how to improve my language skills and be able to communicate in my second language (including making jokes!).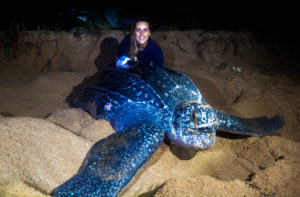 We're glad you had such a great time in Cornwall! How do you think your time here has helped you in your career?
I believe the MSc Conservation and Biodiversity definitely helped me to prepare for my current role. During the MSc I learned I wanted to be a researcher and the programme helped me to gain skills which were key for conducting my PhD. I particularly benefitted from an improved academic English (which is my second language), GIS, statistics and from data analysis during my research project.
The campus is great as it is surrounded by nature. The University has modern facilities (lecture and seminar rooms, laboratories, library). There is a great variety of research being conducted at the University which makes it a place for cutting-edge research with loads of seminars, talks, workshops. And being in Cornwall makes it even better, because it is such a unique place to visit and to live.
Finally, Do you have any advice for anyone thinking of applying to any of our programmes at the University of Exeter and pursuing a career in conservation?
Do it!
Thanks Lili!
You can follow Lili and Projeto TAMAR on Twitter (@lilipcolman, @Projeto_TAMAR) and Instagram (lilicolman, projeto_tamar_oficial) !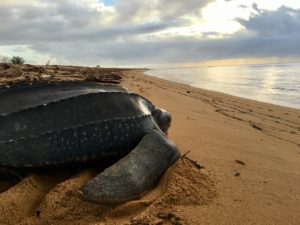 If you want to find out more about any of our suite of #ExeterMarine Masters and Undergraduate courses use the links below!