[soundcloud url="https://api.soundcloud.com/tracks/789950197?secret_token=s-yV1Al5Zg2SH" params="color=#ff5500&auto_play=false&hide_related=false&show_comments=true&show_user=true&show_reposts=false&show_teaser=true&visual=true" width="100%" height="300″ iframe="true" /]
Show notes
In this episode we talk to Tim Gordon about his work studying coral reef bioacoustics, this is a follow-up from the interview we did with Steve Simpson, which you can find here.
---
About our guest: Tim Gordon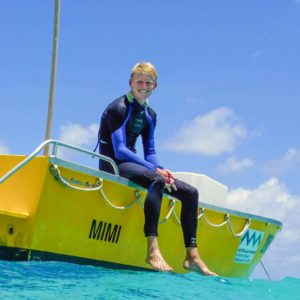 Tim Gordon is currently undertaking a PhD focussing on how human activities impact underwater bioacoustics. Tim's area of study uses fieldwork as well as laboratory work and computational analysis, to assess the likely effect of noise pollution on marine life, with the aim of determining how they can best be managed.
Tim was recently rewarded for his science communication efforts, by winning the FameLab International prize for 2019, becoming the first UK national champion of the competition since going global.
---
Topics discussed:
Importance of soundscapes for marine animals

Changes in underwater biological and human sounds

Uses and types of sound underwater

Process of reef fish using sound to settle in coral reef habitats

Effect of noise pollution on fish orientation
---
Resources:
Online Talk: Scientists and Explorers Live – "Songs of the Sea" with Encounter Edu
British Council's page for Tim's FameLab competition talk
Talk: "Climate Change: Tales from the front line"
Talk: "Helping Nemo find home"
---
Episode and show notes produced by Ben Toulson and Katie Finnimore.
Check out other episodes of the podcast here.
You can subscribe on most podcast apps, if you're feeling kind please leave us a review!
#ExeterMarine is an interdisciplinary group of marine related researchers with capabilities across the scientific, medical, engineering, humanities and social science fields. If you are interested in working with our researchers or students, contact Emily Easman or visit our website!