In this episode we talk to Dr. Lucy Hawkes about a number of her research areas including arctic terns, basking sharks and bluefin tuna. Listen out for a story about a mysterious tuna tag as well.
---
About our guest: Dr. Lucy Hawkes 
Lucy is a physiological ecologist, whose work focuses on the costs and drivers of migration in animals (vertebrates and invertebrates) using emergent technologists such as satellite telemetry, heart rate logging, accelerometry and metabolic rate measurements. Lucy uses technical approaches including biologging, spatial ecology, remote sensing and respirometry to make empirical measurements that help in the understanding of amazing migratory performances. Lucy's work has also investigated the impact of external forcing factors, such as climate change and disease ecology on migration and breeding ecology.
Above: Dr. Lucy Hawkes, Dr. Matt Witt and the team working with basking sharks. Photo credits: Nic Davies
---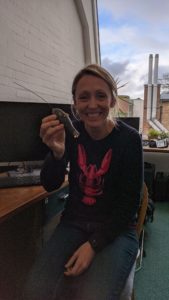 Topics discussed:
Lucy's experience as a National Geographic Explorer.

Tagging and studying bluefin tuna.
The long distance migrations of arctic terns.
Studying basking shark behaviour.
Breaching basking sharks.
The journey of a mysterious tuna tag (pictured right).
---
Basking shark videos
We deployed cameras on #baskingsharks – watch the incredible moment we saw them, for the first time, gathering secretly at dawn together on the Scottish seabed @CLESUniofExeter@DrMJWitt@SNH_Tweets – at least FIVE of these massive, incredible, animals hanging out – but why? pic.twitter.com/O3d0cEAduj

— Dr Lucy A Hawkes (@DrLucyHawkes) August 15, 2018
---
Resources:
---
Episode and show notes produced by Ben Toulson and Katie Finnimore.
Check out other episodes of the podcast here.
You can subscribe on most podcast apps, if you're feeling kind please leave us a review!
#ExeterMarine is an interdisciplinary group of marine related researchers with capabilities across the scientific, medical, engineering, humanities and social science fields. If you are interested in working with our researchers or students, contact Emily Easman or visit our website!