Our University of Exeter MSc Marine Environmental Management students recently returned home from their fieldtrip to the Maldives. Read on to hear from Monica Mayorga all about their amazing experience:
Day 1
As our plane descended into Malé, the capital city of the Maldives, we were amazed by the natural beauty that lay before us. The deep blue ocean below was dotted with clusters of islands with golden sand and turquoise waters. After arriving in Malé, we embarked on a three-hour boat ride to Magoodhoo, the island which would be our home for the next nine days. As we stepped off the boat, we were welcomed by a team of researchers from the marine research organization MaRHE Center. Inga, Fede, Jacopo and Enrico took us on a tour of the island, where we experienced its unique charm and tranquil atmosphere. The lives of Magoodhoo people are intricately intertwined with the ocean, and we really gained an appreciation for this when we discovered the walls of many of their houses are constructed from the very coral reefs they are surrounded by.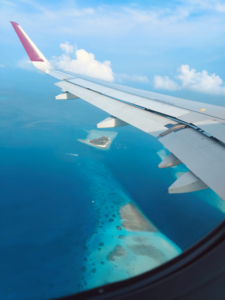 Views from the airplane as we descend. Photo by Beth Lewis.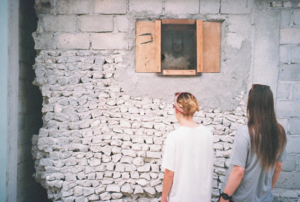 A house with coral reef walls. Photo by Will Robson.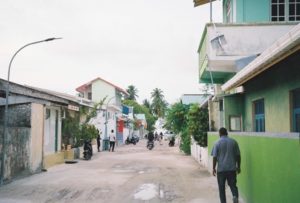 The streets of Magoodhoo. Photo by Will Robson.
Day 2
The next morning, Callum and Julie gave us an in-depth lecture about coral reef ecosystems. We discovered the Maldives sits atop an underwater mountain ridge that formed 55 million years ago, and its reefs have been shaped by various weather events like the monsoon. That afternoon, we eagerly prepared for our first dive of the trip to MaRHE's coral restoration site in Magoodhoo. As we swam between the metal structures with small fragile coral fragments attached, I watched Jacopo carefully inspect and remove the macroalgae growing on some of the frames and admired the hard work and dedication behind coral restoration.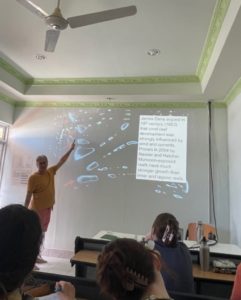 Callum shows us an aerial photograph of the Maldives revealing how monsoons shape its coral reefs. Photo by Monica Mayorga.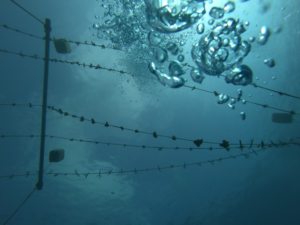 Acropora corals hang in MaRHE Centre's coral restoration site. Photo by Ben Pearce.
Day 3
As the first rays of the sun peeked over the horizon, Quillie and I were already up, eager to begin our first sunrise snorkel. The lagoon that sat in front of the research centre was rich with butterflyfish and angelfish along with large shoals of fusiliers. As we dived down to get a closer look, we spotted gobies and lizardfish with wide eyes and striking poses and a vigilant octopus nestled between rocks. As we ventured further away from land, we saw outlines of steephead parrotfish and bigeye emperors which hung out in the deeper sections below. Later that day, Callum and Julie's lecture on reef fish ecology, diversity, and behaviour made us even more excited for our upcoming dive that afternoon. As we eagerly put on our diving gear, we couldn't wait to explore the underwater world again. As we began the dive, the theory from Callum and Julie's lecture was playing out right before us, and I had newfound appreciation for the parrotfish that were grazing on macroalgae as we had been informed of the vital role that this behaviour plays in maintaining the health of reef ecosystems just hours before. On our second dive, we counted butterflyfish on a belt transect as we swam slowly. Our attention, however, was momentarily diverted when we caught sight of a nurse shark!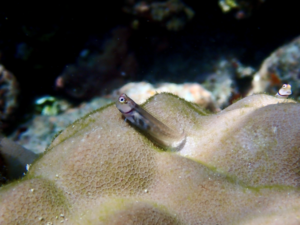 Gobies on a coral. Photo by Mike Clarke.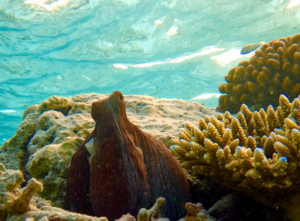 An octopus in the Magoodhoo lagoon. Photo by Quillie Erskine.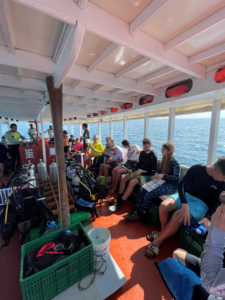 Everyone gets ready for a dive or a snorkel. Photo by Monica Mayorga.
Day 4
The next morning, we learnt a new reef monitoring technique, the stationary point count! We boarded the boat, setting off to explore a new site called the Blue Cove to conduct a census of the various species of grouper that inhabited a designated section of the reef. Our search for these fish proved to be quite challenging, as groupers are known to be timid, requiring us to explore behind rocks and crevices to find them. In the afternoon, our focus shifted to the impacts of human activities on coral reefs, ranging from plastic pollution to overfishing and disease. In the case of Maldivian reefs, they are particularly threatened by land reclamation. The impact of land reclamation can be seen in the north of Magoodhoo, where suction dredgers deposit sand on former reefs to expand the land and construct the first airport in the Faafu Atoll. Evidence of the destruction can be seen in the fragments of corals and shells within the deposited sand. As the day drew to a close, we gathered on the reclaimed land to watch the sunset. Though the sight was beautiful, it was tinged with sadness, as we reflected on the impact of our actions on nature.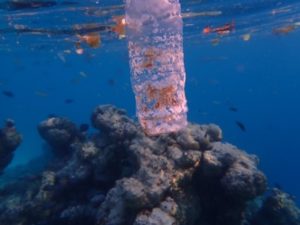 A plastic bottle floats on the coral reef. Photo by Mike Clarke.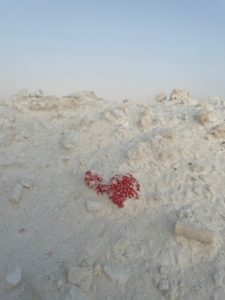 An organ pipe coral buried in the reclaimed land sand. Photo by Monica Mayorga.
Day 5
Rhiannon Davies, an excellent PhD student from Exeter University, gave us an interesting talk on coral ecology and identification. Intending to put theory into practice, we went on a dive and used quadrats to assess the cover of corals, macro-algae, crown of thorns starfish, and giant clams. Despite it being a challenging task, we were fascinated by the intricate differences between coral genera like Porites, Acropora, and Pocillopora, which we could now identify by observing them closely during our dive.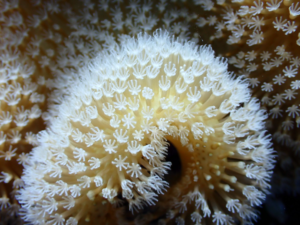 A soft coral. Photo by Justin Luk.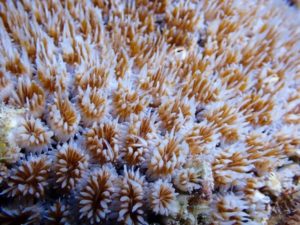 A coral of the genus Galaxea. Photo by Monica Mayorga.
Day 6
We had a lecture on the wonderful world of coral, invertebrates, sponges, and plants, and put our knowledge into practice underwater by recording coral and sponge cover using quadrats. With only a few days remaining before our field trip exam, that evening, we gathered at the pier in Magoodhoo to go over the lecture content we'd already covered. As we tested our knowledge, I was struck by how lively the water around the pier was at night. Within a span of a few hours, we witnessed a ray, a couple of juvenile black-tip sharks, and a majestic white-tip shark with fish in its mouth.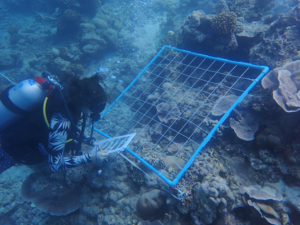 Imogen collects data from quadrats. Photo by Monica Mayorga.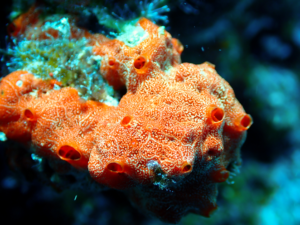 A sponge we found in a quadrat. Photo by Monica Mayorga.
Day 7
We went on a boat journey to an uninhabited island known as Aganda. As we jumped from the boat to snorkel towards the island, we discovered a vibrant reef. Shoals of bannerfish floated below us, unicorn fish hovered at the surface, and I occasionally spotted a charismatic anemonefish -anemone pairs. Upon arrival, we indulged in a picnic under the warm sun, and I admired the scenery of pearly white sand and crystal-clear waters. When we made our way back to Magoodhoo, we were treated to a night of traditional Maldivian cuisine of flavoursome fried pastries filled with fish and vegetables, and a sweet coconut pudding for dessert.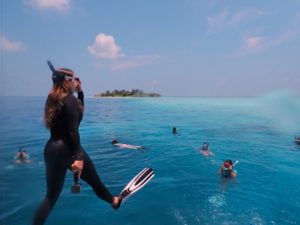 Tessa jumps off the boat. Photo by Monica Mayorga.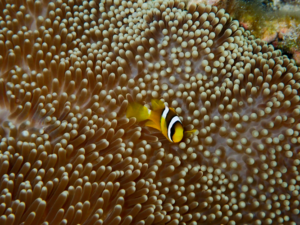 An anemonefish in its host anemone. Photo by Monica Mayorga.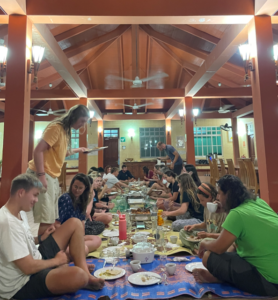 Eating traditional Maldivian cuisine. Photo by Quillie Erskine.
Day 8
After delving deep into the effects of climate change on coral reefs, we had the opportunity to witness its devastating effects on a reef severely affected by the last bleaching event. It was a stark contrast compared to the vibrant sites we had visited before. When we sampled the reef with quadrats, we found that it was mostly comprised of coral rubble, remnants of the coral reef that once thrived in the past. Fortunately, we discovered numerous recruits, which are juvenile corals smaller than five centimetres in diameter, giving us hope for a brighter future for the reef. Our moods were also lightened when we saw a pod of bottlenose dolphins swimming near the boat on our way back to Magoodhoo. That evening, Enrico from MaRHE Centre shared his PhD research on ways to increase coral resistance to bleaching, showing us the potential of science to save reefs from the impact of climate change.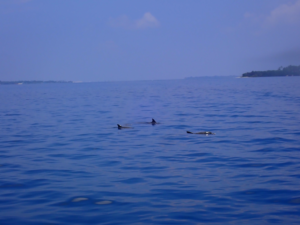 A pod of bottlenose dolphins. Photo by Monica Mayorga.
Day 9
This was the day of the exam!  We celebrated its completion with a fun dive and a snorkel, in which I noticed how much better at free diving we had all become. The day came to an end with a beautiful sunset from the boat which I savoured as the completion of the last day of our trip. That evening, we all presented the best pictures we had taken throughout the trip for the photography competition. All the entries were incredible, each capturing a unique aspect of the Magoodhoo's beauty and our experiences here. As the night began, we danced and laughed as we were immersed in the rhythm of traditional Maldivian music.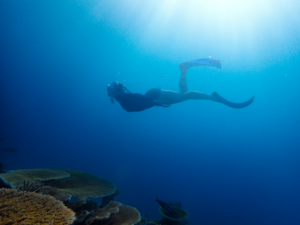 Georgia free diving. Photo by Monica Mayorga.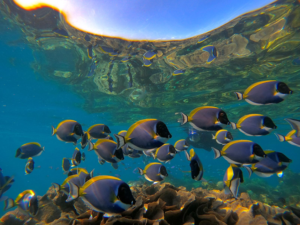 Winning photograph of a shoal of powder-blue surgeonfish. Photo by Jess Willis.
Day 10
On our last snorkel that morning, I observed the Picasso triggerfish, a name which suitably describes its pattern of brown, yellow and black strokes, charging at another fish in a display of territorial behaviour, and I reflected on our new depth of understanding on coral reefs. As we swam along, we no longer only appreciated the reef's beauty, but we were also able to identify many of its species, their behaviours, and feeding patterns. As I looked out to sea on our boat ride to Malé, I marvelled at the views one last time and felt deep gratitude for the incredible opportunity we had to visit this magical place. I want to give my sincerest thanks to Callum and Julie for organizing such an incredible trip, Chris for joining us, and Jacopo, Inga, Fede, and Enrico for making this island feel like home. And, finally, to all my fellow MEM students, it could not have been a better group!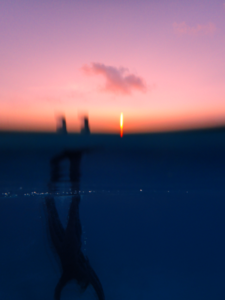 Quillie dives down on our last sunrise snorkel in Magoodhoo. Photo by Monica Mayorga.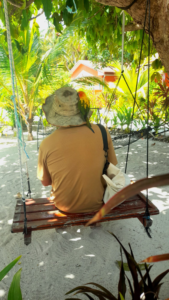 Chris and Tropical Dave. Photo by Poppy Tully.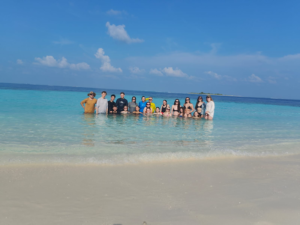 Group photo in Aganda island. Photo by Beth Lewis.
Thank you for reading!
Monica