Our world-leading marine research underpins a wide range of undergraduate and postgraduate programmes. In our MSc Graduate in Focus series we look at the achievements of our MSc graduates who have excelled in marine science around the world since studying with us. Today we chat with Lorraine Aldridge, MSc Marine Vertebrate Ecology and Conservation graduate, who is now working as a Conservation Intern at the Ascension Island Government (AIG) Conservation and Fisheries Directorate.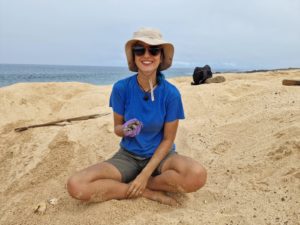 What have you been doing since leaving Exeter, and what are you doing now?
Since completing my MSc, I have begun a yearlong internship with AIG Conservation and Fisheries Directorate. Ascension hosts the second largest nesting population of green turtles in the Atlantic and my role is mostly focused on monitoring the green sea turtle population here. As the turtle season winds down, my role has expanded to assisting in areas across the conservation department; with opportunities to get involved in marine research such as the shark tagging project, assisting with the long-term monitoring of seabird colonies and the islands near endemic land crabs.  As well as more terrestrial conservation; endemic plant restoration work, nature reserve maintenance (park warden work) and invasive species control/removal.
Why did you choose this career? And what do you enjoy most about your work?
Conserving biodiversity, studying the impacts we are having on our planet and searching for solutions are core interests of mine. In particular, I have wanted to work in the area of sea turtle conservation for as long as I remember, and my current internship has given me the opportunity to be part of the monitoring effort for an incredibly important long-term study. I enjoy how active and hands on my role is and how I'm able to get involved in a range of different conservation activities in order to build up my skills set for future career moves.
What did you enjoy most about your programme/the University and what was the biggest highlight?
One of the biggest highlights of my studies was networking with lecturers and partner researchers who are actively working in my field of interest and having the opportunity to work closely and collaboratively with them on my research project. As part of my research
project I was able to travel to Costa Rica to study the green turtle population at Tortuguero with the Sea Turtle Conservancy which was a definite highlight for sure!
Why did you choose to study this course?
After graduating from my BSc in Marine Biology and Coastal Ecology I knew I wanted focus on sea turtle conservation. Through past research I knew studying with Exeter would offer me the contact with leading researchers in my specialised area of interest and would present me with opportunities to potentially be involved in their research and learn from their expertise.
What skills and experiences have been most useful for your career?
Practical fieldwork experience, report writing skills and understanding of statistical analysis are some of the most valuable skills I gained whilst completing my masters, which will be beneficial when applying for future roles.
What advice would you give to a current student who wishes to pursue your career?
I've learnt how important being proactive and resilient is for a career in conservation, experience is important and opportunities to gain it can be hard to come by but being proactive and determined has definitely helped me find amazing opportunities so far.
What are your plans for the future?
After my internship I hope to continue to work and travel for marine conservation and hopefully move onto a sea turtle monitoring project coordinator or monitoring manager role with a focus on educational outreach as well.
Interested in postgraduate study with us? Take a look at our website here.