Our world-leading marine research underpins a wide range of undergraduate and postgraduate programmes. In our MSc Graduate in Focus series we look at the achievements of our MSc graduates who have excelled in marine science around the world since studying with us. Today we chat with Benjamin Radford, MSc Marine Vertebrate Ecology and Conservation graduate and now a marine science and dive instructor with the American marine education company Seamester.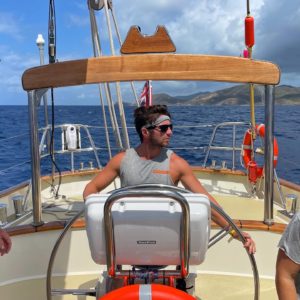 What have you been doing since you left Exeter, and what are you doing now?
After completed my MSc in Marine Vertebrate Ecology and Conservation (MVEC) I travelled to Thailand to qualify as a PADI Dive Instructor. I worked on Koh Tao for a while as an instructor and dive guide until I was hired by the American marine education company Seamester.
I was hired in the capacity as marine science and dive instructor but my first year has been a fair bit broader than that. I began teaching diving in the British Virgin Islands on the company's summer camp programme. I was then flown to Bangkok to join the refit of 'Argo' one of the company's 112ft schooners. After a lengthy period getting the ship into a seaworthy state, I joined a small delivery team to sail from Bangkok to Cape Town, crossing the Indian Ocean , with stops in Malaysia and Mauritius.
Once in Cape Town we met with our first cohort of students, all spending a university semester studying while on board. I teach Marine Biology (accredited by the University of South Florida). Everything is checked by the university but I make and deliver my own lectures, course work, practicals and exams, all while the students sail 'Argo'.  Our students also take PADI certified dive courses and a range of sailing qualifications within the 90 days.
This particular programme saw us cross the Atlantic, visiting St Helena, Brazil and French Guiana before sailing on to the Caribbean to visit; Antigua, Barbados, St Lucia, Les Saintes, Bequia and Dominica. Highlights included diving with whale sharks in St Helena, catching Wahoo off the coast of Brazil and competing in the Antigua Classics regatta alongside some of the most beautiful ships in the world. I feel privileged to have a job that has given me such unique experiences and an opportunity to help students be inspired by marine environments.
I'm currently on Argo's sister ship, 'Vela' about to set sail from Fiji across the Pacific, headed for Bali.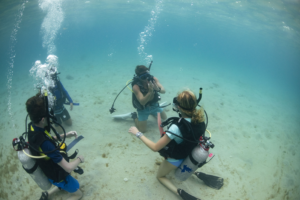 Why did you choose this career? And what do you enjoy most about your work?
My role has given me an amazing opportunity to sail around the world, experiencing some of our most significant and spectacular marine environments. In the last year I've logged over 13,500 nautical miles, visiting 14 different countries, explored islands and dived reefs that few are lucky enough to see. I love how the classes I teach are so directly linked to the marine environment the students are experiencing for themselves – seeing students inspired to protect their environment has been particularly rewarding.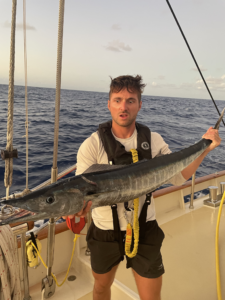 What did you enjoy most about your programme/the University and what was your biggest highlight?
Exeter Penryn provided great access to the environment I was studying. Being based in Cornwall, it was easy to get in the sea and see what I was learning in the real world.
The academic staff at Penryn were exceptional during my Masters, going the extra mile to make sure we gained the best postgraduate experience possible, despite the constraints of the Covid pandemic. The whale watching tours around the Cornish coast were a stand out experience. 
Why did you choose to study this course?
I had studied for a BSc in Marine Biology at Penryn, so I already knew the advantages of campus life in Cornwall and I'd heard much about the new MVEC course that would begin once I graduated. The modules aligned with my interest areas and the course had a clear focus on practical skills including the Marine Mammal Observer and Marine Mammal Medic courses.
What skills and experiences have been most useful for your career?
Skill wise I'd have to say scientific writing. We were taught to understand what makes a good scientific paper and how to develop our own writing styles without sacrificing the validity or accuracy of what we were saying. I teach the same skills in my current role and the understanding I was given during my BSc and MSc has helped me to develop the writing standards of my students.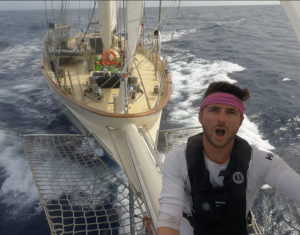 What advice would you give to a current student who wishes to pursue your career?
After your degree go develop your skills and get some certifications. I became a dive instructor after I left Uni which as well as making myself more employable meant I didn't have to rush into the first job I saw. I could stay on an island paradise making enough money to get by and be more selective about possible careers. Moreover being in a place that specialises in those types of skills was an unreal networking opportunity. Everyone on the island I was at had worked or new people who did work in marine conservation/education/research and a good word from them to employers was the best foot in the door I could ask for.
What are your plans for the future?
I am enjoying my current role and working for Seamester. I find the education aspects of my role particularly rewarding and potentially would like to study for a PhD if it enabled me to continue in the marine conservation/education area. 
Right now though, we sail from Fiji, straight through the 'coral triangle' so I'm stoked about the diving opportunities! 
Interested in our degree programmes? Take a look at our website.