Good morning all! Some of you will have started to receive offers for accommodation, if not please do not worry as we will be continuing to send these until next week.   In today's blog, we will be looking at living away from your main campus and why this is a great experience. Whether you're living in University-owned or private accommodation, we have lots of helpful tips to support you if you're feeling concerned, left-out or unsure about living in the city.
Whilst most students will live off-campus from their second year onwards, as a new student the concept may seem quite daunting. Many students in this situation worry that they will miss out on "campus life". However, living away from campus has just as many benefits ( if not more!)  and can give you a wonderful University experience.
Separating Work and Play
As you settle into your studies and the workload piles on, after spending hours in the library, constantly in and out of lectures, you may at times feel sick of looking at the place! Being able to get away from campus and unwind after a long day can be a real benefit to your physical and mental health, which in turn will help you to work more efficiently, after all there is only one you.
Additionally, if you live near the vibrant city centre you will be close to a wide range of bars, clubs, cafés and entertainment venues. Much more rewarding than an evening stroll to the library!  Public transport is regular throughout the day and evening to and from campus so you're never far away.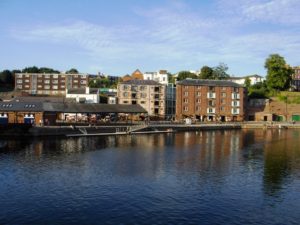 City Life
Exeter is a small city and getting to and from campus will always be within walking distance for you. However, it is really beneficial being that bit closer to local amenities. So, if you need to pop out for milk at midnight, you'll be able to find a place. With a greater choice of shops you will soon get to know where to go for the best prices, and as a student you will find that every penny saved is a big plus. Living in the city, you will be close to some beautiful parks, the stunning Exeter Cathedral and the relaxing Quay area. There are a variety of great things to do around the city. Have a look at the Visit Exeter website to get an idea of just some of the things to do and see.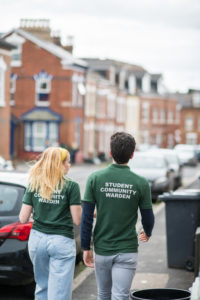 University Support
Even away from campus, you are not alone. If you're in University accommodation you will have the support of our residence life team who work across University accommodation to support you. If you're in private accommodation you will still have full access to the University's welfare support and will have the support of our Student community wardens   To conclude: wherever you live there will always be someone there to help and support you if you need them.
We hope that you've enjoyed today's blog. Whether you're living on or off-campus, we want you to have a wonderful experience in Exeter. If you have any questions or queries please do not hesitate to Contact us.
Accommodation Office