Our world-leading marine research underpins a wide range of undergraduate and postgraduate programmes: Research-led teaching | Exeter Marine | University of Exeter. In our Graduate in Focus series we look at the achievements of our MSc graduates who have excelled in conservation around the world since studying with us.
Today we meet Joana Hancock, MSc Conservation and Biodiversity graduate (2011) and now working with the Olive Ridley Project as a Sea Turtle Biologist!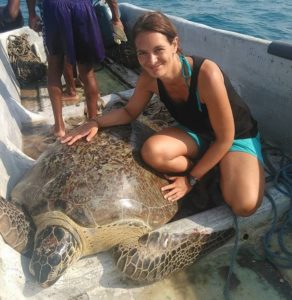 Hi Joana! First off, why don't you tell us what you are up to now and how you got there?
Having graduated from an MSc in Conservation and Biodiversity in 2011 well into my career as sea turtle biologist, I decided to slowly move away from previous jobs where I coordinated sea turtle nesting programs, to study and understand other less studied life-stages such as juveniles and males, and their role in sea turtle conservation. For this reason, I initiated my PhD studies in 2014 focusing on sea turtle foraging ecology, genetics and mixed modelling to understand how these life stages link to each other and how we could integrate them in conservation plans. Following on this specific research interest (foraging ecology and genetic connectivity) I am now trying to initiate a research program on Kenya's south coast coupling sea turtle photo-ID mark-capture-recapture study, habitat mapping and population analyses, focusing on juvenile green turtles in foraging areas.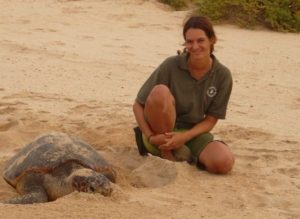 What did you enjoy most about studying your MSc with us at the University of Exeter Cornwall Campus?
The opportunity to study alongside with students from all areas of conservation and different parts of the world. Lectures from people working in different fields of conservation biology and student seminars provided valuable learning and eye-opening opportunities that were as valuable as the MSc program's modules.
I really enjoyed the teaching system, it is very relaxed, in such way that it was very easy to interact and learn from the experienced lecturers and their support staff, who were always available and very supportive. The location is great, it is a very special campus and lab equipment as well as lecture theatres are top!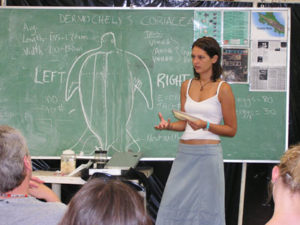 What skills and experiences from the MSc have been most useful in your career?
During the program we learn not only about topics in conservation, but also there are specific modules that teach you how to actually survive in the conservation world: from writing grant proposals, giving oral presentations, writing research papers, attending and preparing job interviews, etc. Extremely important!
Finally, why did you choose your career path and do you have any advice for those looking to pursue something similar?
I choose sea turtle biology and conservation nearly 20 years ago, and there was no turning back. Every day I learn from my interaction with turtles, with people who work with them, and mostly people who live of them. I could not imagine many more careers that can be so inter-disciplinary as working with marine vertebrates such as sea turtles. It can be hard at times, but most of the time it is a pleasure as sea turtle research progresses, turtles become even more fascinating. It is a humbling experience and always extremely rewarding!
This is a career to make your life richer, not necessarily your wallet 😉 With this in mind, keep your expectations low, accept all learning opportunities, but don't get unmotivated. As you gain more experience things will start falling into place, and it will be a life-changing decision you will never regret!
Any advice for anyone thinking of applying to the University of Exeter?
Go for it, it is worth it!
Thanks Joana!
If you want to find out more about any of our suite of #ExeterMarine Masters and Undergraduate courses use the links below!