Current international postgraduate student, Natesh Manchanda, shares his experience with living in a studio in Merrivale House (Lafrowda).
I found that living in a studio can offer many unique and rewarding experiences. It provides a compact yet functional living space that encourages independence and self-reliance. Even though living in a studio to me, as a student, first seemed like a small sacrifice to a socially engaging life (which I realised in the first week is not true), it has its own charms! Studio living offers a cosy and intimate setting that can be perfect for individuals who are looking for simplicity and minimalism. Plus, there's something oddly satisfying about having my entire living space in one room; from plants to study table and dinner table. The best thing is no more getting lost in a maze of forgotten rooms! Whether you are considering studio living or already embarked on this journey, this blog aims to provide valuable insights to help you navigate and thrive in your student life.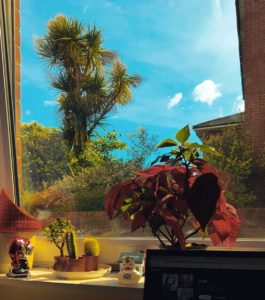 If you are looking for any kind of support, don't worry; university is there to help you through thick and thin. Let me share one personal experience with the Residence Life Team: after moving into my accommodation, the next morning I remembered struggling to find a space to put my big luggage bags but then suddenly, I heard a knock on the door and as I opened the door, I saw two people from the Residence Life Team greeting me with a smile and asking if I need any help. They right away told me that I can easily fit my suitcases or any bag using under-bed storage, and I was able to fit in my two large and one small suitcases.
The best and the most unexpected thing for me was that the Residence Life Team regularly check on your mental health by visiting your place and asking if you're facing any problems. They also organize free meetups weekly where all the students living in University accommodation can play games, cook, and interact, which helped me in making a lot of friends. Overall, the university has provided so many options where one can get any kind of support they want.
Moreover, living in a studio as a student can be cost-effective compared to renting a larger apartment or dorm room, which means you can save some precious pounds for those late-night pizza runs. Studios are also generally easier to maintain, saving you valuable time and effort. Living in a studio and on campus is like icing on the cake; be it campus or the city centre, everything is less than a mile away.
Taking everything into account, I would suggest going for on campus accommodation. As a student living on campus in a studio, I feel that I can focus more on myself and develop basic life skills like cooking and cleaning. Learning new skills is something everyone should experience. It has been an enriching experience, teaching me valuable lessons in space management, minimalism, and personalization. It may have its challenges, but with the right mindset and a few clever tricks, a studio room can become a comfortable and functional home away from home.