Saying Goodbye: Project End and Legacy
Posted by rrov201
3 May 2022
---
It's hard to believe we've now come to the end of The Beat of Our Hearts. After 12 months, our funding period drew to a close at the end of April. We're very grateful to the Arts and Humanities Research Council for supporting this project as part of an Equality, Diversity, and Inclusion Fellowship awarded to Charlotte.
Looking back on the last year, there have been so many highlights. Working closely with 17 fantastic, imaginative, and energised LGBTQIA+ people in the South West has been a real privilege for us, and we hope that we will see some of them again in the future. As the blog posts here testify, the conversations we had were wide-ranging and thought-provoking. The play, which you can now view online, was in part shaped by our opportunity to explore ideas with them.
Our event at the Being Human Festival in November was another highlight, with thanks to Arts Council England and the Wellcome Centre at the University of Exeter for financially supporting this. The preview scenes brought us into contact with some wonderful actors, and the event represented the beginning of the production process that came to fruition in the performance.
As we've reflected on this blog, the performance itself was a real delight, and a huge milestone for us and for Natalie McGrath, the Playwright. To create a play in a relatively short space of time presented a range of challenges but also opportunities for our various collaborations with the amazing creative team, including Director, Scott Hurran. The production at the Northcott really blew us away; as researchers it's unusual to experience the impact of our collaborations in such a powerful and remarkable setting. The audience feedback was also overwhelmingly positive, and you can read some additional performance reviews here.
Our overall reflections on the project are now available in our final report, which you can read here. Learning from this work, we have a number of suggestions for next steps and recommendations for future LGBTQIA+/arts-research collaborations, particularly for partnerships between universities and theatres. These are shared in the report and we hope they can be useful to others. As with every project, there are plenty of things we'd do differently next time.
Going forward, we really hope the materials we've created through this project can continue to be used for generating conversations about LGBTQIA+ community, friendships, mental health, loneliness, and mutual support. The film of the production is available to view online for free, and we welcome anyone who would like to organise a free public film screening to get in touch. The play script is also available to purchase from the publisher, or from selected local bookshops and libraries. We encourage you to share this with your friends, schools, LGBTQIA+ groups and networks.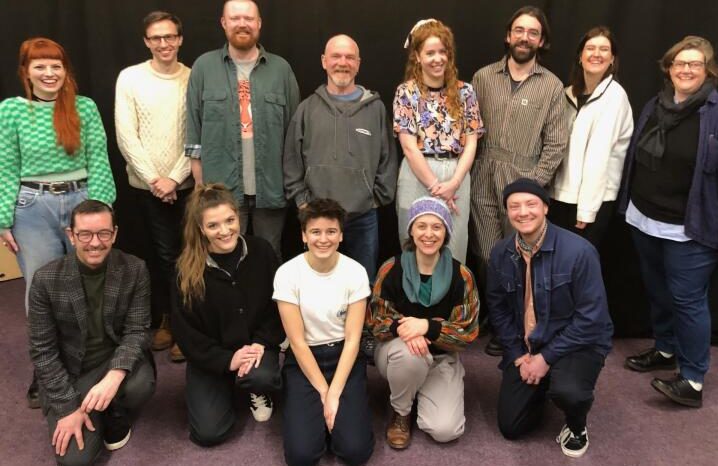 Finally, there are so many people we'd like to thank. We won't name everyone here (see our report), but we're very grateful to the huge number of individuals and organisations who've supported and contributed to this project, and helped to make it such an exciting and memorable collaboration. We're especially grateful to Intercom Trust, Exeter Northcott, and Natalie McGrath – our project partners – who have approached this work with such enthusiasm, insight, and dedication. We've learned so much from these partnerships, and from working with the wider team – Producer, Naomi Turner, and Historical Advisor, Fred Cooper. It was Natalie's initial interactions with our loneliness research at the Wellcome Centre which developed into the inspiration behind this project, and we're so grateful to Natalie for her wonderful creative imagination, her commitment to bringing people together, and to celebrating the lives of LGBTQIA+ people in the South West.
Thanks to all of you for joining us for this project, please stay in touch.
– Richard and Charlotte