Actors
Rebecca Todd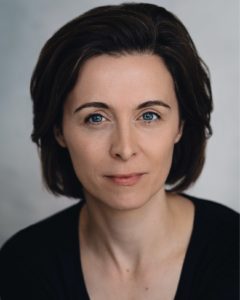 Rebecca (she/her) is playing Val in the main performance of The Beat of Our Hearts.
Rebecca trained at LAMDA.
Theatre includes The Welkin, Nine Night (National Theatre), This Island's Mine (Ardent Theatre), Romeo & Juliet (Orange Tree Theatre), Seeing the Lights, Old Times, Rookery Nook (Theatre by the Lake), Treasure Island (Iris Theatre), Purge (Arcola Theatre) Table Manners, Round And Round The Garden, The Turn Of The Screw, Deathtrap (Sheringham Little Theatre), Contractions (Unicorn Theatre); Julius Caesar (Broadway Studio) and A Devilish Exercise (Rose Theatre, Bankside).
Rebecca is also a regular cast member of the Shakespeare's Globe Read Not Dead project, which stage the lesser known plays by Shakespeare's contemporaries. She has appeared in over 30 of these plays, including The Knight of the Burning Pestle, Friar Bacon and Friar Bungay, Gorboduc, Gallathea and Timon of Athens.
Television: Eastenders, Emmerdale
Film: Peninsula, 7 Lives
Frewyn Thursfield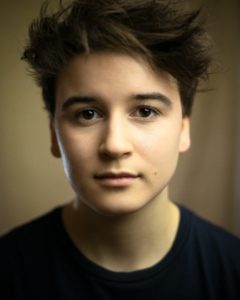 Freweyn (they/them) is playing Luca in the main performance of The Beat of Our Hearts.
Frewyn Thursfield is a fresh face on the acting scene, having graduated from the Theatre Peckham REP Company in 2020.
Frewyn's debut stage role was in Frantic Assembly's production of THE MAP WOMEN. Other stage credits include Theatre Peckham's START and Play On's production of MACBETH.
On screen, they will soon be appearing in Stefan Golaszewski's new BBC drama MARRIAGE, as well as Netflix's new coming-of-age series HEARTSTOPPER.
Elijah W. Harris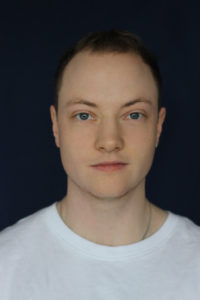 Elijah (he/him) is playing Quill in the main performance of The Beat of Our Hearts.
Elijah W Harris is a multi-disciplinary artist and creative working in theatre, live art and TV. He recently directed an R&D called SOFT, exploring themes of masculinity and trans identity. Previous performances include SPIT! Manifesto by Carlos Motta at Skopje Museum for Contemporary Art, And The Rest of Me Floats, The Bush Theatre/Outbox, Rotterdam by Jon Brittain, UK Tour and The Butch Monologues by The Drakes, UK Tour. Elijah's writing credits include KAOS (Netflix) and Dead End (Netflix). Elijah is currently writing on an animated show for Disney.
Kieron Jecchinis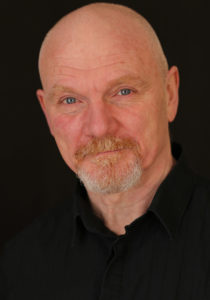 Kieron (he/him) is playing Dove in the main performance of The Beat of Our Hearts.
Theatre credits include: Our Country's Good (Ramps on the Moon national tour); The Merry Wives of Windsor; Coriolanus (RSC); A Midsummer Night's Dream; All's Well That Ends Well (Stratford Festival, Canada); Cat on a Hot Tin Roof; To Kill a Mockingbird (Royal Exchange Theatre, Manchester); Awake and Sing (Almeida Theatre); The Odd Couple (Liverpool Playhouse); The Iron Man; The Evidence (New Perspectives); Get Carter (Red Shift Theatre Company); Dial M for Murder; Who's Life is it Anyway; Strangers on a Train; Fiddler on the Roof (Frinton Summer Theatre); Bingo (Young Vic/ Chichester Festival Theatre); The Front Page (Chichester Festival Theatre); Romeo and Juliet (Nottingham Playhouse); And Nothing but the Truth (V-TOL); 900 Oneonta (The Old Vic).
Television credits include: House of Dragon, Washington,EastEnders; Doctors; Out of the
Blue; Gracie!; Poirot; The Bill ; Hollyoaks; In Suspicious Circumstances; Brass Eye; Space
Precinct.
Film credits include: Full Metal Jacket; Empire of the Sun; Bonhoeffer; Jack Ryan: Shadow
Recruit; Coriolanus; BEAT; Papillon, Surge
Radio credits include: The Putney Debates; The Corrupted(3 series); Luther; Don't go Gently (BBC Radio 4)
Being Human Festival 2021
The following actors performed during our Being Human Festival event in 2021.
Zachary Hing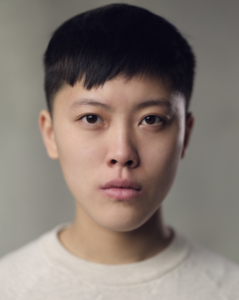 Zachary (he/they) will be playing Quill in our Being Human preview of The Beat of Our Hearts on November 11, 2021.
Film: Hellraiser (Hulu, Phantom Four, Spyglass Entertainment)
Television: HALO (Showtime/Amblin)
Theatre: Living Newspaper (Royal Court); Them! (National Theatre Scotland); Pah-La (Royal Court); Forgotten 遗忘 (Arcola/ Theatre Royal, Plymouth); Why is the Sky Blue? (Southwark); Jubilee (Royal Exchange, Manchester/ Lyric, Hammersmith).
Workshops: Born Slippy (Almeida); Thatcher in China (National); Pericles (National); Timeless & Twelfth Night (National Youth Theatre); Spider Girls (Young Vic/Head For Heights).
Maggie Bain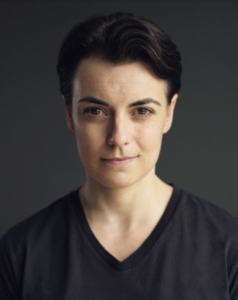 Maggie (they/them) will be playing Val in our Being Human preview of The Beat of Our Hearts on November 11, 2021.
Maggie's theatre credits include: We'll Meet in Moscow (Traverse Theatre), Dream (RSC), Henry V & The Tempest (Shakespeare's Rose) Cyrano de Bergerac (National Theatre of Scotland, Citizens Theatre & Royal Lyceum) Macbeth (Tobacco Factory), Man To Man (Brooklyn Academy of Music, UK Tour, Edinburgh Fringe & Wales Millennium Centre), A Midsummer Night's Dream (Shakespeare's Globe), Broken Meats (Southwark Playhouse), The Blood is Strong (Finborough Theatre), Beautiful Burnout (Frantic Assembly), Henry V & A Doll's House (Theatre Delicatessen), 3 Stories – Memory, Love of the Nightingale (Rough Fiction), It's A Girl (Edinburgh Fringe & International Theatre Festival Bucharest), Kid Simple (Edinburgh Fringe). Maggie is also a practitioner for internationally renowned theatre company Frantic Assembly.
Television credits include: I Hate Suzie, Intergalactic, Black Mirror, Trigonometry, The End of the F*****g World, Goldie's Oldies, Happiness, Crisis Control, Churchill's Mother.
Film credits include: The Lion Vs The Little People, Dark Sense,The Wider Sun (BFI Short), Cold Kill.
Radio Credits include: The Tempest (BBC), Peking Noir (BBC), Getting Better (Audible)
Andrew Macbean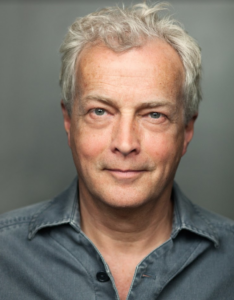 Andrew (he/him) will be playing Dove in our Being Human preview of The Beat of Our Hearts on November 11, 2021.
Andrew Macbean trained at the Bristol Old Vic Theatre School. His work in theatre includes Under Milkwood, Amadeus, Twelfth Night for the National Theatre; Titus Andronicus, Richard III and Measure for Measure at the RSC; She Stoops to Conquer at Theatre Royal Bath; Vanity Fair at Middle Temple Hall; Hedda Gabler at the Old Vic; Twelfth Night and Much Ado About Nothing with Rabble Theatre Co.; Much Ado About Nothing for Shakespeare in the Squares; Richard III for Shakespeare at the Tobacco Factory, Bristol; Rough Crossing at Vienna's English Theatre; The Trap for the Clapham Omnibus; The Little Prince at the Bike Shed, Exeter; Killer Joe at Bristol Old Vic; Mother Goose at the Northcott; Twelfth Night, King Lear and The Taming of the Shrew for Creation; The Picture of Dorian Gray (European tour); The Lady's Not for Burning and Out of Bounds at the Finborough; 1:36:2600 at Regent's Park; A Christmas Carol at Trafalgar Studios; and Macbeth (UK tour).
TV includes The Pembrokeshire Murders, Abba, Post Code, EastEnders, Keith Lemon's Fit, Whistleblower, Torchwood, Mrs David, The Great Escape, The Wrong Sea, Double Top, Dead Cat and Poirot: Evil Under the Sun. Film includes The Keith Lemon Film. Radio includes Crossparty, Stagefright, We Are Not The BBC and Springheel'd Jack.
Tianna Arnold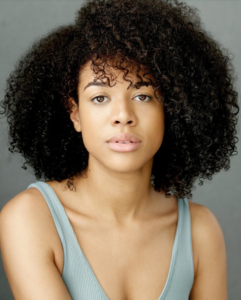 Tianna (they/them) will be playing Luca in our Being Human preview of The Beat of Our Hearts on November 11, 2021.
Theatre credits:
| | | |
| --- | --- | --- |
| WHO CARES | Guildford School of Acting | Dom Rouse |
| RED VELVET | Guildford School of Acting | Nicholai La Barrie |
| IMAGE OF AN UNKNOWN YOUNG WOMAN | Guildford School of Acting | Heather Carroll |
| MACBETH | Guildford School of Acting | Jaq Bessell |
| OROONOKO | Guildford School of Acting | Dominic Burdess |
| ALL MY SONS | Guildford School of Acting | Richard Neal |